If Instagram for you is more than just beautiful pictures, and you, for example, work in it or promote your business and for some reason you have been absent for a long time, then it's time to catch up and figure out what's new here.
Updates were different. This is new functionality aimed at increasing user activity, this also includes additional page security settings and, of course, design changes.
New Design
The "Message" button appeared.

A new navigation bar appeared in the "recommendations" with thematic collections such as style, cars, travels, etc.

Added IGTV and shopping sections.

Publication tab has been replaced by IGTV. Now, to get into the feed, you need to click on any photo.

The archive has moved to the top left menu.

The «Following» tab has disappeared from the «Activity» section.

The pages you follow can now be sorted by date of subscription.

Dark mode appeared. You can enable it only if you shift the entire phone to a dark mod.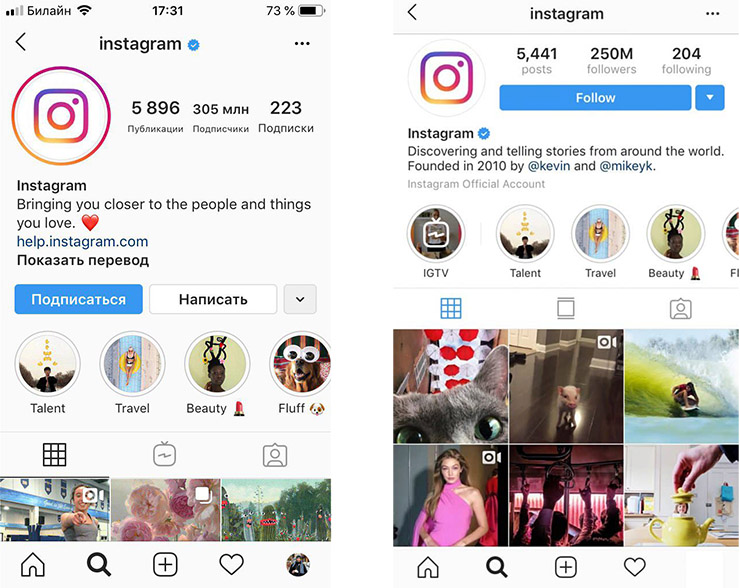 New Instagram Features
Accounts for Creators
Bloggers can now go to the account for creators. It has statistics, as well as business accounts, but in addition it contains additional tools. If you actively maintain your page but don't sell anything, then this feature is for you.
Horizontal IGTV Videos and Series
Now, in addition to vertical video, IGTV supports good quality horizontal video. Instagram does not stop trying to compete with YouTube. Another innovation in this area are series. Now you can sort the videos by category.
AR masks and filters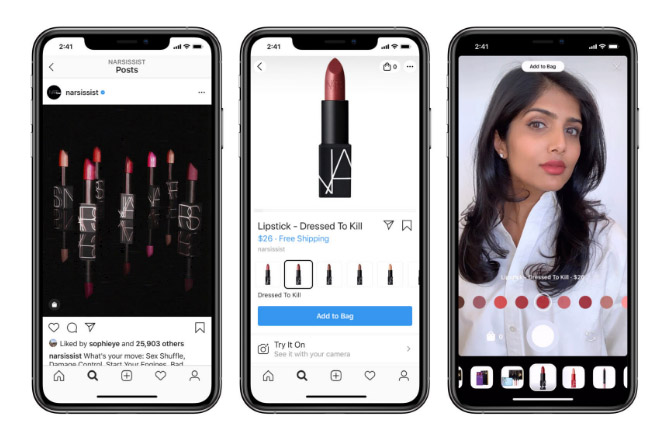 These are the effects that you add to the video when shooting through insta-camera. Initially, all effects were only from Instagram itself. But recently have appeared the tools for self-creation of such effects. Instagram is also testing the ability to check products before buying in augmented reality.
Stories Updates
The Stories interface has changed a lot. The "Text" mode is now called "Creation", and two new functions have appeared in it – GIF, "On This Day" and Postcards. The first fills the screen with a GIF selected from the GIPHY catalog. Now it will be easier to find a background for story. With the help of "Postcards" you can quickly and beautifully congratulate a friend. Memories give an opportunity to publish a post that you have made this day a few years ago, and also to show who you make friends at this time.
Added "Collage" mode. 6 different layouts are available. A collage can contain from two to six photos.
New interactive stickers
— Chat Sticker. Now you can directly invite people from stories to chat.
— Quiz Sticker. You can conduct a quiz using tests. Ask a question, offer answers and indicate the right one.
Comfort and User Safety
Less "sex" in recommendations. If a photo or video is "suggestive of sex", then the coverage of such content may be reduced.

Warnings. Instagram began to warn about the possibility of deleting content and the possible deletion of an account. And he also began to check the text in the posts for insults and bullying.

Multiple password. Now you can use one password to enter to all your accounts.

Shadow Ban. If someone bothers you on Instagram, but you don't want to completely ruin the relationship with this person by blacklisting him, now you can simply restrict him.

There was an opportunity to close the profile from people of younger minimum age.

Hiding likes has been tested in different countries for a long time.

Now, when changing the username, it is reserved for 14 days, so you can return it back if you change your mind.

The number of accounts that can be accessed from one device has increased.
Instagram Threads
Instagram introduced a new standalone Threads app designed to communicate with close friends.
If we missed something, then welcome to comment)