Hello! I want to share with you an interesting mechanics of increasing activity and getting likes on Instagram. Curiously, I do not peeped it from someone and discovered quite by accident as a result of my own insta-experiments.
It is suitable for pages that already have a decent audience (500 – 10,000 subscribers and above).
⠀
It happened on the page @kinoteatrdruzhba. One user just put 20-30 likes, thereby filling out the entire activity notification page. I decided that it is necessary to thank him. I took a snapshot this page, mentioned him and put it in the story.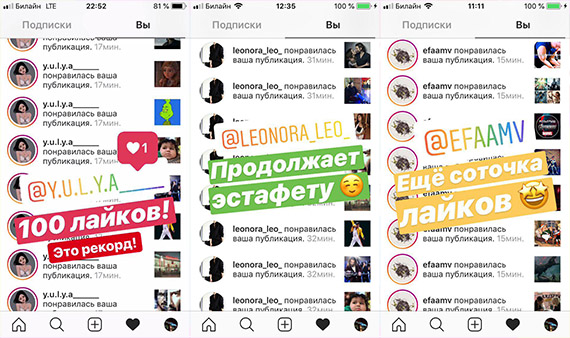 Then came a chain reaction. Other users saw that for a bunch of likes you can get to the story for free, and also began to generously like us. It has been reached even 100 likes from one page..
⠀
So, you can declare in a post or in a story about the start of a marathon of likes and thank those who responded. You can also try asking for any other actions: reposts, comments, etc.
Minuses
The downside is that the rest of the audience may not like it and quickly get bored, so this campaign should be less often.
⠀
What do you think about this?) Please share your opinion! And what methods do you use to increase activity on a page?